AMPSound Hearing-Aid Bluetooth Headphones - Red
AMPSound Hearing-Aid Bluetooth Headphones - Red
| | |
| --- | --- |
| Brands | Jabees |
| Product Code: | JVAE-485 |
| Availability: | In Stock |
Hearing Aid Pocket Sound Amplifier Rechargeable Adjustable Volume For Deaf Elderly Bone Conduction Headphones
AMPSound Bluetooth Hearing Amplifiers are unique in the way that they combine the benefits of not one, but three different products into a pair of beautifully designed stereo headphones. Use AMPSound as personal hearing amplifiers, Bluetooth stereo headphones or a Bluetooth earpiece for phone calls. With the ability to enhance sounds, you'll be able to hear the world around you better than you ever have before. Designed as regular in-ear earbuds, AMPSound headphones are easy to use, easy to wear and require no adjustments to give you the most comfortable fit.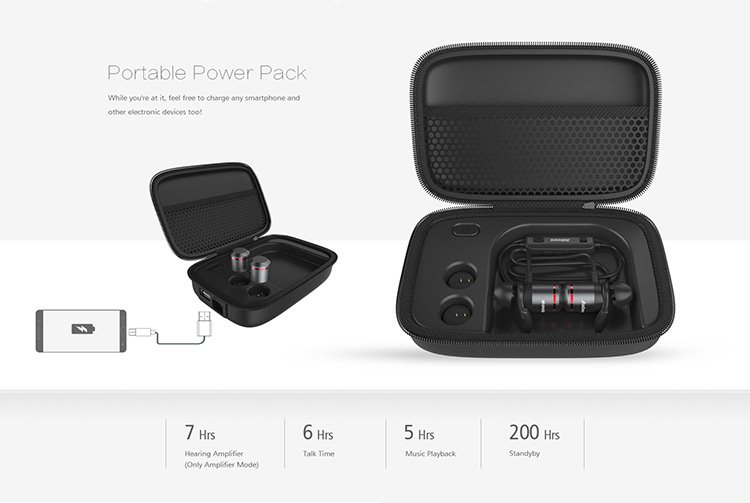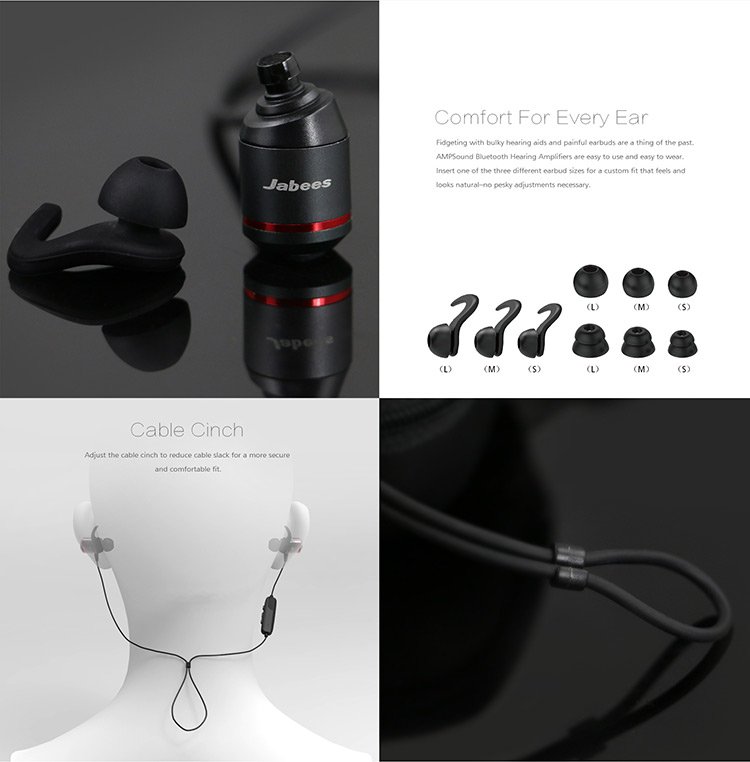 Jabees like to create things that help solve problems in people's daily life.
No more embarrassment
Wearing AMPSound is just like wearing the wireless in-ear headphones. It is not noticeable as a hearing amplifier.
No more uncomfortable ear molds issue
Just put in and take out AMPSound easily/quickly as you do with your other in-ear headphones.
No more worry on the dead battery
Recharging the removable Battery Capsules easily
3 in 1
Using AMPSound to boost your hearing, streaming music wirelessly, answer the calls.
Affordable cost and purchase without a doctor visit.
Specification
---
Features and benefits of Jabees AMPSound Bluetooth Hearing Amplifier:
Bluetooth V4.1 CSR chipset
Bluetooth profile: A2DP/HSP/HFP/AVRCP
16 Levels of personalized sound enhancement
Removable battery capsules (2X 50mAh, total 100mAh)
3000mAh Power Pack that can charge mobile phones and other electronic devices–provides at least 21 cycles of charging two battery capsules.
The Power Pack also serves as a place to carry and store AMPSound headphones.
Charging time of Power Pack: Approximately 6 hours.
Sweat Proof IPX4 with nano-coating
High-fidelity sound quality with built-in Automatic Gain Control (AGC)
One set of headphones, three different uses: Boost your hearing, answer calls or listen to music.
Magnetic lock ear buds for answering and making calls.
Option to adjust the volume of each ear bud individually.
Maximum Saturated Sound Pressure Level (SSPL): ≤125dB 3dB
High Frequency Average Gain: 118 3dB
Average Full-on Gain: 58 dB 5dB
Standard Frequency Response Curve: 300Hz-5KHz
Equivalent Input Noise (EIN) Level: ≤18dB
Harmonic Distortion: ≤4%
Time for hearing amplifier mode: Up to 5 hours (Subject to the surrounding noise level)
Talk time: Up to 5 hours
Music playing time: Up to 4 hours
Standby time: Up to 100 hours
Voice prompt in English
Battery meter on iOS system
Charging time of 2 Battery Capsules: Approximately 1.5 hours
Multipoint: Allows 2 Bluetooth devices to be connected to AMPSound simultaneously
Included with each order:
1 X Bluetooth Amplifier AMPSound
1 X rechargeable power pouch ( 3000mAh)
1 X micro-USB charging cable
3 X Earbud (Bowl shape ) (S,M,L)
3 X Earbud (Double-flange) (S,M,L)
3 X Earbud (with tail ) (S,M,L)
1 X User Manual